For Every Shower Curtain!
Keep the water in the shower!
You've just found the easy fix to the problems caused by the shower curtain in your bathroom letting water splash onto your bathroom floor causing a safety hazard and cleanup after every shower!
Water can leak around any shower curtain used alone. Use the Original NoMorWetFloor with your bathroom curtain to KEEP THE WATER IN THE SHOWER!
NoMorWetFloor is a set of two specially designed shower curtain shapers:
Use with Shower Curtain Rod, Hooks/Rings and Liner/Shower Curtain you already have

Install in minutes with illustrated directions using no tools, adhesives or glues

Clear high impact resistant Lexan polycarbonate plastic

Won't mildew or discolor

Top rack dishwasher safe

Always made in the U.S.A.
NoMorWetFloor shower splash guard for every shower curtain and bathtub fits standard or curved shower curtain rods, shower curtain hooks or rings, cloth bathroom shower curtains and/or plastic shower curtain liners to gently curve the ends of your bath curtain for a snug fit against the shower wall within your tub preventing water from splashing, running or dripping onto your bathroom walls and floor.
NoMorWetFloor eliminates water splashing outside your shower onto your floor and walls:
No more stepping out of the shower onto a wet shower mat

No more wet floors and messes after every shower

No more mopping up your floors after you shower

No more water spray damage leading to expensive repairs to floor, walls and ceiling

No more need to replace your tile, carpet, wood, or wallpaper because of water spray damage
Protect yourself & your family with increased tub safety by keeping the bathroom floor dry and safe. Protect your expensive tile, wood, carpet, walls and wallpaper from water damage.
NoMorWetFloor is the most useful of bath accessories for your bathroom enjoyment and convenience.
Hundreds of thousands of satisfied customers use NoMorWetFloor in dorms, apartments, homes, second homes, RV's and hotel, motel or rental properties. NoMorWetFloor is a much appreciated Housewarming, Graduation, Wedding, Host, Holiday and Swag Bag gift.
Save time and money by adding NoMorWetFloor to your shower curtain!
Keep Scrolling to Read How
Parents of Six Solve A Messy Problem For Over 250,000 People
Keep Scrolling to Buy Now
Order Direct & Save Here On Our Secure Website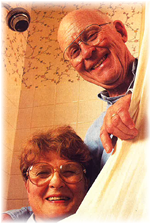 Parents of Six Solve A Messy Problem . . .
With six growing children and one shower in our home, our parents were dismayed the bathroom floor and walls were always soaked by the time we had all had our turn in the shower.
Dad was a United States military veteran & middle school science teacher with a can-do attitude and an inventive mind. He solved our problem with NoMorWetFloor. NoMorWetFloor worked so well for us Mom wanted to help others. We have been selling Dad's invention worldwide since 1984 as a family business.
We six and our children use NoMoreWetFloor in our dorms, apartments and homes. We're proud of our parents and dedicate this website to them.
. . . For Over 250,000 People
Hundreds of thousands of people benefit from NoMoreWetFloor by preventing damage to their bathroom floors, carpet & walls, avoiding eventual rot & ceiling leaks, and providing a safe, dry bathroom floor. People use NoMorWetFloor in their homes, second homes, rental properties and RV's. Major hotel chains quickly and easily install NoMorWetFloor in guest rooms improving guest comfort & safety and lowering property maintenance costs.
NoMorWetFloor has been offered through the leading home shopping network and through leading mail order companies. NoMorWetFloor has been featured in The New York Times Helpful Hardware section and in national magazines.
Now you can buy NoMorWetFloor direct from us on this secure website!
Property Management, Hospitality, Health/Fitness & Leasing Organizations, Group Residences and Promotional Product Suppliers please contact us for quantity discounts